Oppo is the Chinese smartphone manufacturer that produces amazing handsets with attractive features. The smartphone market of the company has spread around many regions in the World and the company has found substantial followers in Europe. The company though sells handsets that are bit high priced, which is due to the high-end specs and gadgets being introduced in their market. Oppo Mirror 3 is compact and has little change in shape and specifications as compared to its predecessor Oppo 3001. The company has given this little beast a better performance as compared to many high tech smartphones it has sold so far.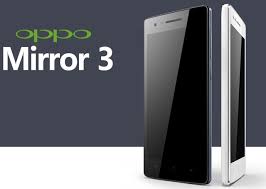 OPPO has intelligently designed the handset. Mirror 3 is made perfect with both compactness and soberness which makes it unflawed as manufacturing is concerned. It is sleek with patterned back and a slight curve in edges that run normal till the center. The rear camera rests at exact center with flash light at the top. The speaker bulges like a fresh unsmooth dot while not hurting an overall look. The Mirror 3 has 4.65-inch display with a pixel resolution of 720 x 1280. You are highly likely to find the crisp in the videos you see and games you play in the hnadset.
Oppo Mirror 3 comes fitted with Qualcomm Snapdragon410 processor under the helm. The device is very efficient with its processor. The CPU is 64-Bit with 4 cores, each one shifting between 200~1209.6MHz. This processor makes Oppo Mirror 3 one of the best in mid-range devices. The chipset running the device is MSM8916. OPPO Mirror 3 has 1GB RAM carrying a Quad-core processor. However, the 1GB RAM is less efficient in handling multiple apps and streamlining the multi-tasking. Mirror3 has 8GB ROM that can also be extended to 32GB. Overall the performance of processor is satisfactory.
Oppo Mirror 3 has an 8MP rear camera, which is smartly designed to capture images with high resolutions. The size of the image can be around 4.02 MB (where you can shrink quality for the web). The dimensions of the image are 3200 x 2400 pixels. As far as the front camera is concerned, it has 5MP shooter that has dimensions of 2592 x 1944 pixels accompanying the Beauty and normal mode. The size of the image can be 2.6 MB (squeezed for the website). The handset life is backed by a 2000mAh battery where you can do all chores and still it will not run out.
Go, Grab and Enjoy!