There was a time back in the technological world when 'BlackBerry' word was relatable with the word 'smartphone', or it was at least synonymous with the cell-connected PDA. While today you would most profusely listen the words 'iPhone' and 'Galaxy' in this respect, still the legacy of BlackBerry lives on, which still continues to evolve and adapts to the rapidly changing mobile phone technology as well as industry.
The BlackBerry smartphones released recently are actually running on Android OS and they have got a heavy sort of customization on top of them, where the primary focus is on the productivity and security. Earlier in 2017, we came to know about the BlackBerry KEYone, which was a good combination of BlackBerry hardware and Android software where the spice was added by the classic QWERTY keyboard.
It is now time to look into the successor or follower of BlackBerry KEYone, i.e. BlackBerry Motion, which was released about a couple months ago. Before we move to that, who could have thought that BlackBerry will finally move on with its classic hardware using QWERTY keyboard and introduce the all-screen smartphone.
Design
Previous BlackBerry phones such as KEYone and Priv had unconventional designs, but BlackBerry Motion has arrived with a complete Android package. The hardware keyboard is going to be missing in the full-touch display layout. Therefore, it will go with a fully traditional design.
So, BlackBerry Motion is going to have 5.5-inch screen with minimalist bezels, curved edges and ultra-wide aspect ratio. Selfie camera, earpiece and the sensors will be placed above it, while the backlit Android buttons and capacitive will be placed below, which will be centered around the fingerprint scanner mounted within the physical home button. The left edge is flatter and contains SIM/microSD tray, while the right edge will house power button, programmable convenience key and the volume buttons. In the below edge, you will have headphone jack, USB Type-C port and the speaker grille.
Where the right, left as well as bottom sides are going to be the flat metal, the top edges will be unconventional front-to-back curved. The rear side of the phone is basically covered with patterned material with soft touch, which further features the thinner strip of metal on the top edge, on which LED flash and main camera are placed.
You will find the whole package as quite thin, as the thickness is just about 8mm. BlackBerry Motion is IP67 certified, which makes it more likable. The only weaker aspect vis-à-vis BlackBerry Motion's design is its home button, which does not look good, though the fingerprint scanner inside it works alright.
Display
BlackBerry Motion has got 5.5-inch LCD panel. It has comparatively got not a very unconventional shape, and it does not further push the pixel-density limits owing to its resolution of 1920 x 1080 pixels. Just like LG V30, its brightness is going to be quite comparable, decent as well elegant. But some users might be disappointed as its brightness is not as good as the BlackBerry KEYone.
You will however find the colors actually like popping out of the screen. But we cannot declare them as specifically accurate, because it has got larger-than-life and quite exaggerated saturation. Moreover, you will also find the color temperature as a little bit on the cooler end, but if you select the setting of dialing that up from the display settings, then you are good to go.
Interface and Functionality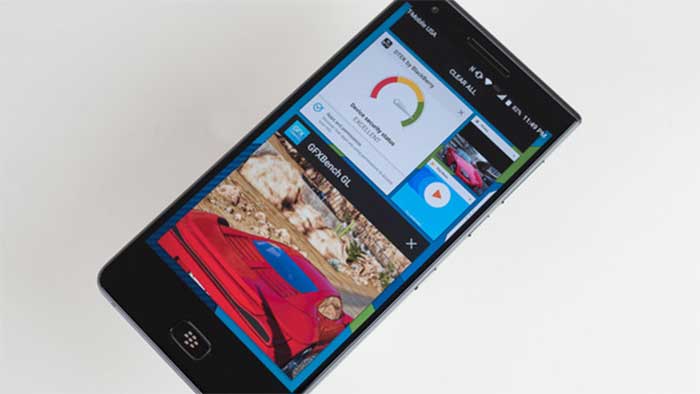 Most of the software stuff on BlackBerry Motion is going to be same as before, i.e. Productivity Tab, BBM, DTEK security hub and other useful shortcuts for system settings as well as common tasks. Convenience key is back now, and this key will open your selected app through a dedicated hardware button. You will also be able to do its configuration in order to let it behave quite differently based on the environment, so that it will be accessing particular apps depending on the activity you are performing at the moment. The downside here however is that this convenience key will not be performing this function for multiple apps simultaneously.
Among other highlights are the Privacy Shade, which is a screen-obscuring feature, which basically darkens the display of the phone through a small and movable window. Where we do like the available number of options, we are still alarmed by the fact that given the screen size of the phone, all these features might backfire.
Processor and Memory
BB Motion is totally the opposite of Black Berry KEYone in terms of the performance, as the silicon chip used in this former belongs to the mid-range category. While the contemporary mid-range smartphones are also quite powerful, this hold truth because they do still offer a lot of battery saving which is not much offered by the flagship high-end devices.
In the BB Motion, there will be Snapdragon 625 SoC along with 4GB RAM. This has 1 GB of more memory than BB KEYone, still the former has performed low scores in different benchmarks, and that is possible due to the higher screen resolution in it.
Moreover, the phone has got 32GB of internal storage, which is also not huge by any means. However, it will be expandable through microSD slot.
Connectivity
While the phone is already internationally available, main question is the carrier support for the phone when it is released in USA. Currently, no official information is available, still the rumors tell that the few bigger companies in US including Sprint, Verizon and AT&T will be offering this phone.
Camera
We might not idealize many of the users going out to purchase a BB phone particularly because they are only looking for a phone with best camera. Still, even when such a thought comes in mind, we can still see that the best snapshot will be taken when the moment arrives. So, this means we are not going to get the noisy out-of-focus image quality in BB Motion.
Moreover, good thing is that BB Motion is going to push the limits with its hardware specs in the camera, and the phone is hence equipped with 12MP camera with f/2.0 aperture on the rear and 8MP camera with f/2.2 aperture on the front.
Image Quality and Video Recording
Overall, the photos taken from BlackBerry Motion seem to be OKAY. They might not seem to be the best in quality but they will also not be the worst in their game. In this regard, the pictures taken in the outdoor look to be sharp and best, whereas the photos taken in the night time might be struggling in their overall quality. Bottomline: do not ask much about the quality of the camera in BB Motion, as it will only fulfill your justifiable needs.
As far as the video recording is concerned, this phone will be offering a great variety of video making modes, which will extend up to 4K @ 30fps. Most of the video making options available in it will appear to be quite decent. Moreover, sound and video quality both appear to be acceptable, but there were also some distracting noises and compression artifacts when we were filming at 60fps. So, bottom-line: Motion will be good for basic shots, but it will be struggling in high-quality video shots.
Multimedia
Even when the phone has got a bigger screen display, it still seems like BlackBerry Motion is not going to prioritize its multimedia experience. This is also evident through the not-much-impressive speakers. There is only one speaker in the phone, which is placed on the bottom edge. Where we did not experience any sort of issues with the volume levels, they still seem bit quiet.
Moreover, BlackBerry is still among those companies, which still struggle to fight against the possible removal of headphone jack. That is the reason that this phone does retain the support for not only the analog headphones but also the branded earbuds. Another special thing about the buds is that these buds will be coming with the phone along with the alternate-sized tips.
Call Quality
There was no complain about the voice quality in case of BlackBerry Motion. There might not be anything special about it, but still BlackBerry has done a good job in not messing up in impacting the call quality in receiving and dialing calls in any way.
Battery Life
While we were using KEYone, we were happy due to its incredible battery life. That phone had 3,505mAh battery capacity along with sufficient hardware power requirements, which enabled it to have more than 12 hours of continuous activity.
In case of BlackBerry Motion, we are blessed with an even larger 4,000mAh battery, but will the bigger screen in it cancel out any potential battery life?
Not so. That is because we experience an improved battery life, as it would now be more than 13 hours. So, you still might need to charge the phone every day depending on your usage capacity. Moreover, the recharge time for this phone will be about 2 hours so as to get the full power backup.
Concluding Remarks
BB Motion cannot be declared as a bigger step forward in the BlackBerry smartphone lineup, as even when the phone has got full touch display, but still it is a revamped form of KEYone. The keyboard in the modern era used to be the divisive feature in BlackBerry that made it unique from the other brands. Still, Motion is yet not a surprise entry by BlackBerry and the people have accepted it as it is.
Software features in the phone are also same as they were in the previous KEYone, and hence the phone will have same appeal as it had in case of the latter one. However, some weaknesses are evident there, e.g. camera, which cannot be considered as just alright, and speaker is also not what the users might have desired in the beginning.
However, if you still intend to buy the BlackBerry Motion for right reasons, it would simply mean that you are going to make the right decision.
Though the pricing is the mainly trickier part in which you could compare the KEYone with Motion. The price of BlackBerry Motion in Pakistan currently stands at PKR 50,000, which translates up to more than $400 in USA. This price does make the Motion belonging to the mid-range smartphones category.
So, if you are really in for the software add-ons of BlackBerry, and if you want to enjoy the phone with massive battery capacity, then BlackBerry Motion is going to make the better sense of all the mid-range smartphones currently out there.